Media Release
28 September 2012
Embargoed until 2 October 2012, 9.30pm
Path-breaking Pacific artist scoops two national awards
Auckland-based artist Shigeyuki Kihara hasn't been shy of international attention in recent years. She is known for her performance art in media including live performance, photography and video works exploring the 'complexities of humanity' as well as for her participatory, socially-engaged art works.
However, in the past month, she has scooped up two of New Zealand's pre-eminent awards for contemporary art, most recently, one of three New Generation Awards from the Arts Foundation of New Zealand, announced on 2 October.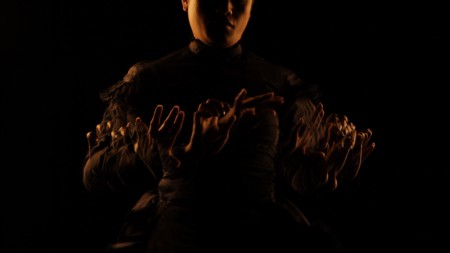 Her solo museum exhibition 'Shigeyuki Kihara: Living Photographs', held in 2008 at the Metropolitan Museum of Art, New York, was accompanied by her selection as one of five "path-breaking artists" by Art Asia Pacific Almanac that same year. This didn't escape the notice of the 4th Auckland Triennial (New Zealand) held in 2010, which commissioned an exciting intercultural performance that brought together a local Japanese taiko drum group and Maori kapa haka performance.
At Tuesday night's black-tie evening, Ms. Kihara was awarded a New Generation Award from the Arts Foundation of New Zealand, with prize money worth $25,000 to support her work as an artist. Past recipients of the New Generation Award are artist Alex Monteith, writer Tze Ming Mok and film-maker Taika Waititi, amongst others.
"In the last ten years, Shigiyuki Kihara has built an impressive career as a contemporary artist and curator, built around performance, film and photography. Her work sits beyond traditional Western forms of classification and is informed at a deep level by the emotional scars left on her cultures" says art critic Mark Amery, one of the award judges.
This achievement comes on top of the announcement on 3 September where Ms. Kihara was awarded the Wallace Arts Trust Paramount Award for her silent performance video work entitled 'Galu Afi: Waves of Fire'. The work sees her perform a dance informed by the 'taualuga' (a classical Samoan dance) as a memorial to the victims of the 2009 tsunami in American Samoa, Samoa and Tonga.
This was the first time for video art to be admitted into the running for the awards, established by arts patron Sir James Wallace, 21 years ago. The award includes a six month residency at the International Studio and Curatorial Program (ISCP) in New York which Ms. Kihara will take up in 2013.
Ms. Kihara is active in the New Zealand and international art scene with her work appearing in numerous group exhibitions, amongst others, 'Edge of Elsewhere', a major three-year project producing new works for Sydney Festival's visual arts programme (2010-2012); and the recent acquisition and accompanying performances of 'Taualuga: The Last Dance' by Te Papa Tongarewa Museum of New Zealand, earlier this year.
Her work can currently be seen in 'Home AKL', the first major group exhibition of contemporary Pacific art developed by Auckland Art Gallery Toi o Tāmaki, until 22 October.
ENDS
Image credit:
'Galu Afi; Waves of Fire' (2012), still
Shigeyuki Kihara
Winner, Wallace Arts Trust Paramount Award 2012 (6 month residency, ISCP, New York)
Courtesy of Shigeyuki Kihara and Collection of the James Wallace Arts Trust, New Zealand