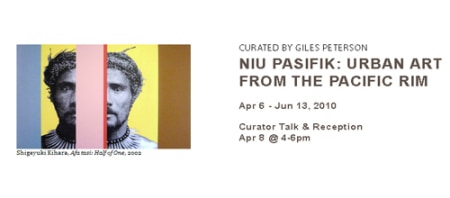 At C.N. Gorman Museum, California, USA
6 April – 13 June 2010
'NIU PASIFIK is an exhibition of contemporary art by 46 artists and designers from New Zealand and the Pacific Rim from my personal collection. Several of the works are from exhibitions I have curated over the years.
NIU PASIFIK includes work from my first curated exhibition in 1994; other works are newly commissioned or acquired pieces, the most recent being in 2010. There is a sense of history to the exhibition: it's a journey through a personal collection which never started intentionally as a 'collection' but has evolved to be a powerful representation of contemporary art from the Pacific Rim.
NIU PASIFIK features multimedia work including graffiti art, painting, drawing, animation, embroidery, textile, street fashion and tattoo. The artists come from New Zealand, the Cook Islands, Samoa, Tonga, Fiji, Niue, Hawaii, Papua New Guinea and Australia.
The show celebrates over 16 years of independent curating, including landmark exhibitions Island Crossings (2000) – the first exhibition of Contemporary Maori and Pacific art to tour to Australia, Out of the Blue (2001), Urban Pacific (2007) and Spirit of the People – New Melanesian Art (2009); all of national and international significance.
Quite a lot of the art in NIU PASIFIK looks at youth and street culture which reflects my interest in young people and my work with young Pacific artists and designers. Teaching as I have for over 16 years keeps me fresh and always learning. "Working with young people is really invigorating and they are one of my main target audiences when I'm thinking about exhibitions". [1]
The mix of work by new generation and established artists and designers makes for an interesting exhibition; the diversity of creative expression and talent on display creates a charged space where a polyphonic discourse is exchanged: a platform where the artist's voice is heard and given primacy.
NIU PASIFIK marks more than 40 independent, curated exhibitions. The NIU PASIFIK artists explore a range of issues and concerns such as identity and identification, spirituality, the environment, globalisation, technology, representation, colonisation, survival and of what it is to speak from the position of different cultures. It's a forum for interaction, discussion and exchange.
"If we are not moved, if we stand still – the status quo is our reward". [2]
Giles Peterson, April 2010
[1] A. McCarthy, ' Curator in Diversity: Giles Peterson's dynamic exhibitions', Neochroma Magazine, Auckland: Whitecliffe College of Art and Design, March 2003, p.4.
[2] L. Lippard, ' Mixed Blessings: New Art in Multicultural America ', New York: Pantheon books, 1990, p 22.
(Excerpts taken from press release.)
Artists include:
Tracey Moffat; Taryn Beri; Kiwi Biddle; Quinton Carrington; Joanne Currie Nalingu; Matt Dowman; Jenny Fraser; Ian George; Kay George; Goroka bilum Festival PNG Bilum Makers Cooperative; Niki Hastings McFall; Alfred Haure; Michael Haure; Lonnie Hutchinson; John Ioane; Anita Jacobsen; Juse One; Robyn Kahukiwa; Leilani Kake; Chris Kauage; Richard Kereopa; Marlaina Key; Taylor Kingi; Terry Kolomatangi Klavenes; Lily Laita; Andy Leleisi'uao; Janet Lilo; Lina Marsh; Martin Morububuna; Herman Pi'ikea Clark; Diane Prince; Shona Pitt; Rosanna Raymond ; Marlon Rivers; Siliga David Setoga; John Suine; Taniela Taniela; Ema Tavola; Tracey Tawhiao; Sopolemalama Filipe Tohi; Michel Tuffery; Niwhai Tupaea; Thomas Umba; Glenda Vilisoni and Shigeyuki Kihara.