Photos from Culture Court. Photography by James Little.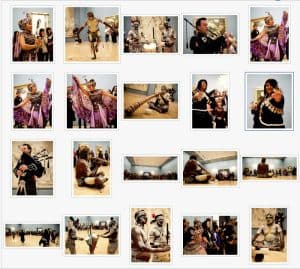 Culture Court (2010) by Shigeyuki Kihara
Venue: National Gallery of Victoria International, Melbourne, Australia.
Supported by Multicultural Arts Victoria and NGV International.
Culture Court is a public performance devised by Shigeyuki Kihara in collaboration with Multicultural Arts Victoria communities and staged at the 17th & 18th Century Gallery of the NGV International in Melbourne, Australia.
Cultural performers from Indonesia, Kiribati Islands, Australia and South Sudan perform briefly only when money is placed inside the bowl situated in front of each performer – at all other times, the performer stands in silence inside the gallery space.
The performance alludes to a 'human jukebox' examining the relationship between art, performance and commerce and the extent to which society "values" culture in an age of globalisation and capitalism.