Milford Galleries Dunedin
Media Release
15 October 2013
Shigeyuki Kihara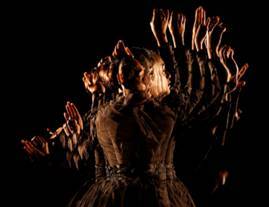 Almost halfway through her residency hosted by International Studio and Curatorial Program (ISCP) in New York, Shigeyuki Kihara's diary is full enough to make a native New Yorker exhausted. Invitations to work as a visiting critic and lecturer have already taken Kihara to a number of North American universities, including New York University, University of Connecticut, University of Indiana South East, University of California Santa Cruz and Carleton University, Ottawa, Canada. Following on from this, the number of projects Kihara has lined up over the next 6 months takes her works to almost every corner of the globe.
Most recently, a photograph from her series 'Fa'a fafine: In the Manner of a Woman' (2005) has found a home in Ohio at Oberlin College's Allen Memorial Museum of Art (AMMA). Here it will keep august company amongst significant holdings of African, American, Asian, and European art. The Assistant Curator of Modern and Contemporary Art, Denise Birkhofer, comments "Shigeyuki Kihara's photograph Samoan Couple is a wonderful addition to the Allen Memorial Art Museum's growing collection of contemporary photography from around the globe. The work's references to issues of gender, colonialism, and self-representation will be of supreme interest to the constituents of Oberlin College." AMMA's comprehensive collection features more than 14,000 artworks, and includes pieces from past and present luminaries as Pablo Picasso, Mark Rothko, Andy Warhol, Donald Judd and Yayoi Kusama.
August 1st saw the opening of 'salt 8: Shigeyuki Kihara' at the Utah Museum of Fine Arts as part of the 'salt' artists' programme. This series of semi-annual exhibitions aims to "reflect the international impact of contemporary art today"(1), and showcases selected international emerging artists. Across the Atlantic, Kihara's performance and photographic artworks will feature in 'Made in Oceania: Tapa', an exhibition curated by the Rautenstrauch-Joest Museum in Koln, Germany and opening in November.
Concurrently here in New Zealand, Massey University's College of Creative Arts will display the works created by Kihara during her time as the Massey University Pasifika Arts Research Fellow. Next year is already shaping up to be as busy as 2013, with a major solo exhibition at Wellington's City Gallery (New Zealand) set to open on February 1st and further solo exhibition projects at Pataka Museum (New Zealand) and Te Manawa Gallery (New Zealand) in the pipeline.
ENDS
Image: Shigeyuki Kihara