What I Think About When I Think About Dancing? Group exhibition at Campbelltown Arts Centre, Sydney opening 27th November 2009.
Sydney's Campbelltown Arts Centre is producing What I Think About When I Think About Dancing? This contemporary interdisciplinary project explores and responds to the shifting parameters and intersections of dance and other art practices by bringing together dance and visual artists, curators and scholars from across Australia and internationally to engage in residencies, performances, an exhibition and a publication.
The project will commence at Campbelltown Arts Centre in November (running until 3 January 2010) and is curated by Campbelltown Arts Centre's Director Lisa Havilah and Dance Curator Emma Saunders.
Artists participating in the project include:
Cathy Lane (UK)
Rosemary Butcher (UK)
Brown Council (AUS)
Mitch Cairns (AUS)
Rosie Dennis (AUS)
Brian Fuata (AUS)
Agatha Gothe-Snape (AUS)
Laresa Kosloff (AUS)
Gabriella and Silvana Mangano (AUS)
Kate Murphy (AUS)
James Newitt (AUS)
David Noonan (AUS)
Christian Thompson (AUS)
The Kingpins (AUS)
Shaun Gladwell (AUS)
Shigeyuki Kihara (NZ)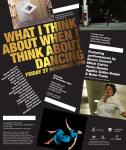 I'll be exhibiting all the moving image documentaries produced from the Talanoa; Walk the Talk performance series (including those staged during my residency early this year at Campbelltown Arts Centre) in the group exhibition. I will also be participating in the Artist Forum (free to the public!) which will be held on the 28th November 2009.