Shigeyuki Kihara: Undressing the Pacific
Hocken Library, University of Otago
20 April – 8 June 2013
Undressing the Pacific is a mid-career survey exhibition of photographic and performance works by Shigeyuki Kihara that spans more than a decade of her prodigious career. The title of the exhibition references the centrality of 'undressing' or subversion as a strategy in Kihara's works, which 'undress' the colonial histories of Samoa, and, her use of dress (and states of undress) as a means to reveal the complex interplay of political power, globalization, cultural identity and gender in contemporary post-colonial societies.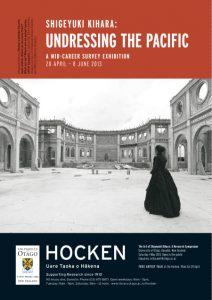 In her 'Fa'afafine: In the Manner of a Woman' series (2005), late nineteenth-century cross-cultural representations of Samoan woman as 'native belles' are subverted by Kihara through a mimicry which sees the artist posing as a semi-clad model in remakes of earlier stereotypical studio photographs. The Victorian mourning dress donned by Kihara in many of the performances that are the basis of her work, is based on the garment worn by the female subject of Thomas Andrew's photograph 'Samoan Half Caste' (1886). This impractical and restrictive dress, introduced to Samoa by Victorian missionaries in the late nineteenth century, can be seen in 'Taualuga: The Last Dance' (2006-2011), and, in Kihara's most recent photographic series 'Where Do We Come From? What Are We? Where Are We Going?' (2013).
Kihara's recognition as a significant artist of international repute continues to grow. In 2008 her work was exhibited at New York's Metropolitan Museum of Art in New York. Last year she received a New Generation Award from the Arts Foundation and a Wallace Arts Trust Paramount Award that will see her take up residence in New York in the later half of 2013. Despite the accolades, the Hocken exhibition is the first time Kihara's work has ever been shown in a public gallery in the South Island.